In today's moving world finding jobs is getting difficult. Especially in India where the annual demand for new jobs is estimated at 12-15 million. In such a scenario finding mere, some low-income jobs are also getting difficult due to such high competition.
Despite that our young generation thinks about finding a Government Job because the Government services provide various perks in comparison to private Jobs.
But we can't ignore the facts that government jobs have high competition and highly qualified students find it difficult to get Government Jobs.
In this, if I say there is one Government Jobs which has relatively less and even a just 10th or 12th pass student(of any stream) can apply for this Jobs. Then you may think it is some hyperbolic thing.
But trust me there is one Government job present that Jobs is Ticket Collector in Railways. In this article, I will talk about this job in detail from education qualification, Salary, Eligibility criteria, and steps to apply for this job.
So without wasting your time let's dive into the topic.
First, let's see that,
What is a role of Ticket Collector?
If you have traveled on the train then you must be quite familiar with ticket collectors. A ticket collector is a person whose major job is to check traveling passenger tickets and find out if some are traveling without a ticket. Apart from that their jobs are to provide assistance to passengers if they are facing any travel difficulties.
Eligibility Criteria:-
For applying for Ticket Collector certain eligibility criteria are set by the government for candidates. These Eligibility Criteria are mentioned below:-
A candidate who is appearing for Ticket Collector Jobs needs to be above 18 and below 30/33/35.
These eligibilities are different for different castes. Let's see all these criteria one by one. First Eligibility is a basic one and this same for every caste and that is:-
The candidate should be of Indian Nationality and to prove that you need to provide a valid document during the Interview round.
Now let's see other eligibility criteria which are different for different castes.
For OBC:-
A Candidate who belongs to Other Backward Caste must be 18 years above and below 33 years.
For SC/ST:-
A candidate who belongs to Schedule caste/ Schedule tribe should be 18 years above and below 35 years
Note:- Eligibility criteria may change sometimes. So it will be quite good if you visit the official RRB site once.
Required Qualification for Ticket Collector:-
The educational qualification required for a candidate is that he/she must possess 10 +2 certificates from a recognized Board or university. Candidates with a three-year diploma or an ITI certificate can also apply for TC jobs. Aside from that, starting in 2021, candidates with a 10th-grade certification will be able to apply for TC jobs.
Don't Miss:-
Railway Ticket Collector(TC) selection process.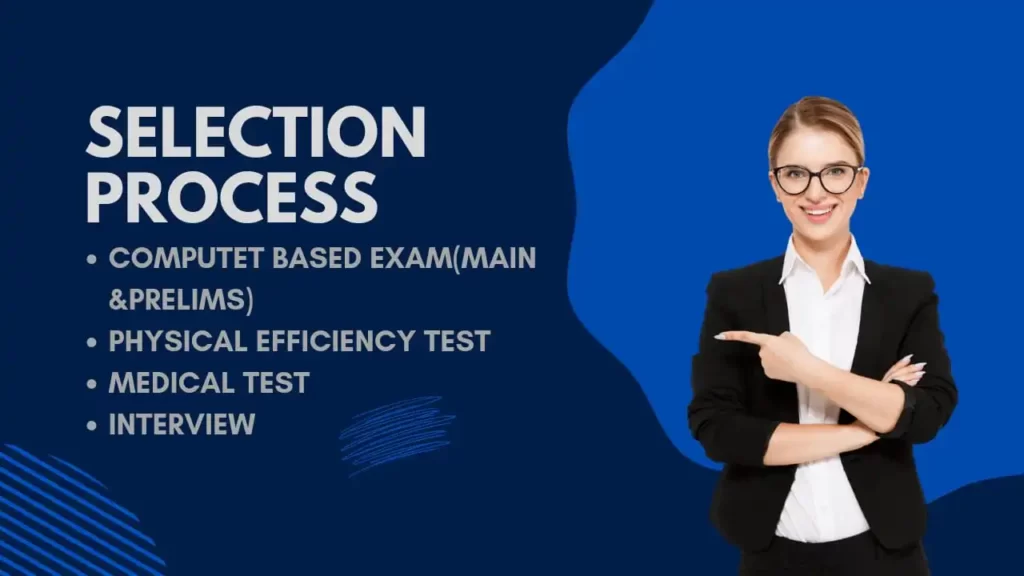 The selection process for Railways ticket collector Jobs is done in four steps. They are as mentioned below:-
Computer-Based Test (CBT)
Physical Efficiency Test (PET)
Medical Test
Personal Interview
1) Computer-Based Test (CBT):-
The first step of the selection process is a two-phase Computer Based Test (CBT). The Main exam is the first, and the Prelim exam is the second.
In the first stage, CBT i.e Perliem exam is the process where candidate screening happens. The Exam duration of this exam is 90 minutes
Following the prelim test, candidates who passed the prelim exam are shortlisted for the CBT Mains. The number of seats available for the position determines the shortlist.
Both of the exams contain 5 sections. They are mentioned below:-
General Awareness
General Intelligence
Maths
Technical subject
General Science
General Awareness:-
The General Awareness section consists of questions on different topics some of which are listed below:
Famous Places in India.
Science and innovations.
New inventions.
Scientific observations.
History of India.
Geography of India.
Countries and Capitals.
National and international current affairs.
Indian Culture.
International issues.
National News (current).
Political Science.
Economic issues in India.
World organizations.
About India and its neighboring countries.
General Intelligence:-
The General intelligence section consists of questions on different topics some of which are listed below:
Space Visualization.
Problem Solving.
Decision Making.
Relationship Concepts.
Non-Verbal Series.
Arithmetical Computation.
Analysis.
Visual Memory.
Similarities and Differences.
Analytical Functions.
Figure Classification.
Number Series.
Maths:-
In this section, the questions are based on various concepts of Mathematics like:-
Simple Interest.
Boats & Streams.
Discounts.
Allegations & Mixtures.
Profit & Loss.
Math Operator Replacement.
Fundamental Operations.
Geometry.
Problems with squares, and cubes.
Compound Interest.
Time & Work.
Probability.
Averages.
Percentages.
Ratios & Proportions.
Simplifications.
Mensuration.
Number System.
Time & Distance.
Problems on Ages.
Least Common Multiple (LCM) & Highest Common Factor (HCF).
Clocks & Calendars.
Logical Sequence of Words.
The odd one out.
Puzzle Test.
Arrangements.
Blood Relations.
Coding-Decoding.
Inserting the Missing Character.
Attention to Detail.
Eligibility Test.
Mathematical Operations.
Alphabet Test.
Classification.
Statement – Arguments.
Logic.
Statement – Conclusions.
Analogy.
Alpha-Numeric Sequence Puzzle.
Technical Subjects:-
The questions in this section are based on the following topics:-
Utilization of Electrical Energy.
Basic Electrical Engineering Concepts.
Power Electronics & Drives.
Magnetic Circuit.
Network Theory.
Power Systems.
AC Fundamentals.
Electrical Machines.
Measurement as well as measuring instruments.
Basic Electronics.
Estimation and costing.
Analog and Digital Electronics.
General Science:-
In this section you can have questions from three different branches of Science:-
Physics:-
Mechanics of Rigid Bodies: System of particles; Centre of mass, angular momentum, equations of motion.
Mechanics of particles: Laws of motion; conservation of energy and momentum.
Electricity and magnetism.
Waves and optics, interference and Diffraction, Polarization.
Thermal & Statistical physics.
Chemistry:-
Chemical Kinetics.
Solid, Liquid, and gaseous state.
Atomic Structure.
Thermodynamics.
Electrochemistry.
Photochemistry & Spectroscopy.
Chemical Bonding.
Organic Chemistry.
Coordination Compounds.
Biology:-
Biotechnology and its applications.
Biology and Human Welfare.
Zoology.
Ecology and the environment.
Human Body.
Genetics and evolution.
Botany.
Note:- The chapters listed here are from the prior year's syllabus. The most recent curriculum has yet to be published. It may differ from this year's syllabus. However, because nearly every chapter of every year is the same, there would be little change.
2) Physical Efficiency Test:-
Once you've passed both of your computer-based examinations, you'll be ready to go on to the next step. The next step is to put yourself through a physical efficiency test (PET). This physical efficiency test is an examination in which the examiner assesses the applicants' physical strength and fitness.
For appearing in this test candidates receive a call letter from the railway recruitment board(RRB). Only those applicants who passed both CBTs and whose names appear on the merit list will get this call letter.
After receiving the call letter, candidates should appear at the venue on the allotted date and time. For the safer side, candidates should appear at the venue within 1 hour of the allotted time.
What are exercises are performed in PET?
For male Candidates:- In one chance candidates should be able to sprint(run) 1000 meters in 4 minutes and 15 seconds.
For Female Candidates:- In one chance candidates should be able to sprint(run) 400 meters in 3 minutes and 10 seconds.
On-the-spot PET results are generated. Candidates who finished the sprint within the time limit are chosen. There is no second chance for the candidate. If he or she fails to accomplish the activity within the allotted time, he or she will be disqualified.
3) Medical test:-
After the physical efficiency test, the third section of the selection process is the medical test. The test has only been given to the student who had passed the PET.
There is a merit list that is prepared after the PET exam. If candidates have any doubt regarding selection then he/she can check whether their name appears for the medical efficiency test.
Generally, this exam happens on the same day and the venue is also the same. But if there is any change regarding the exam date or venue then a notice is sent to qualified students.
What is the thing that is examined in this exam?
To qualify, the medical test applicant must be physically and intellectually healthy and free from any type of disease. Apart from this candidate vision test, Chest measurement, Body height, and Bodyweight are measured.
4) Personal Interview:-
After the candidate passed all of the exams, he or she will be invited to a final personal interview. The candidate receives a call letter for the interview, which includes the date, time, and location of the interview place
During this phase, applicants participate in a simple question and answer session. In addition, candidate documents are checked in this phase. As a result, candidates should provide all relevant original papers.
If you are qualified in this round, you will receive a job joining letter. In which the real pay, as well as the date of hire and the location of employment, are given.
Salary of Ticket Collector(TC):-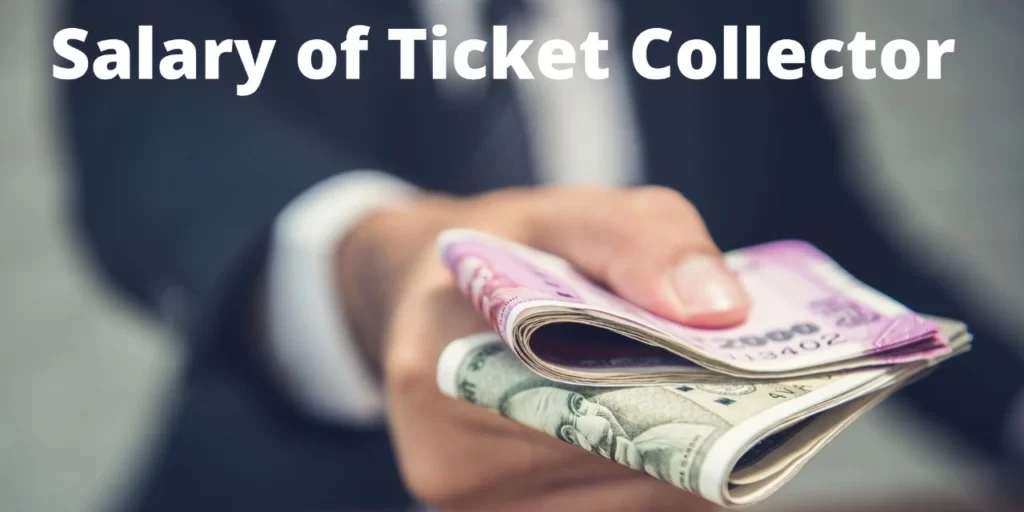 | | | |
| --- | --- | --- |
| Name of the Post | Basic Pay | Grade pay |
| Ticket Collector | Rs.9300/- to Rs. 34800/- | Rs.4700/- |
| Commercial Superintendent | Rs.9300/- to Rs. 34800/- | Rs.4700/- |
| Sr. Commercial Clerk | Rs.5200/- to Rs.20200/- | Rs.2800/- |
| Chief Enquiry & Reservation Supervisor | Rs.9300/- – Rs.34800/ | Rs.4700/- |
| Sr. Transit Clerk | Rs. 5200/- – Rs.20200/- | Rs.2900/- |
TC and Clerk facilities from RRB:-
Apart from the salary, there are various perks that RRB gives to ticket collectors. They are as mentioned below:
Employees are entitled to free/discounted train travel, which is accomplished by giving railway passes to the employee and their families.
After retirement, the employee receives a pension.
Expenses for the Railway employee and their family's medical care
The board will provide housing for the candidates if they are moved.
Promotion of the Ticket Collector:-
After you gain enough experience the RRB provides a promotion to a different post based on your skills. This promotion can be received by a person within 2-3 years of joining.
Railway Ticket Collector(TC) Recruitment 2022:-
RRB posted the vacancy for the Ticket Collector in 2021. The following post is available for candidates:-
Ticket Clerk (TC)
Traveling Ticket Examiner
Goods Guard
Number of the Posts Available:-
2500 Post is available for the candidate
How can you apply for the ticket collector vacancy in 2022?
For applying for this vacancy you need to apply through online mode by filling out application forms on the official website.
Official website address:- indianrailways.gov.in
Steps to apply for vacancies:-
Go to the official website then scroll down to the recruiting area and apply (Apprentice Notification)
The online application button is available to all eligible candidates. Fill in the needed information in the form according to the rules and directions.
Now, upload recent passport-size photos that are in great condition.
Attach photocopies of all of your credentials of qualification and experience.
Before completing the form, double-check all of the information and click the Submit button
Railways TC Vacancies 2022:-
The latest vacancy for ticket collectors (TC) is out. A total of around 6858 vacancies have been released by the railway recruitment board. This position is for both TC and Goods guard. which a total of 2000 vacancies are only for goods guards.
RRB will be notified soon about how to apply for both these posts. So, don't forget to check the railway's official website rrb.gov.in on a regular basis or subscribe to our newsletter to get the latest vacant posts first.
Railways TC recruitment 2022:-
| | |
| --- | --- |
| Event | Date |
| RRB Ticket Collector Online Form Release Date | Available Soon* |
| RRB Ticket Collector Online Form Last Date | Available Soon* |
| RRB Railway Ticket Collector Exam Date | Available Soon* |
| RRB Railway TC Admit Card 2021 Disclosed date | Available Soon* |
| RRB Railway Ticket Collector Results Date | Available Soon* |
Document required for filling Application:-
Photo and Signature (Light Color Background Photo)
Education certificate (10th & 12th Pass)
Domicile Certificate
Caste certificate (Only for caste benefit taking students)
PAN card and Aadhar card
Note:- All information in this post regarding the latest post vacancy is valid, however, we will not be held liable if there is an error. Please only check the official website associated with this announcement to verify all facts about this position, and read it carefully.
Wrap up,
I hope I had explain to you each and everything you should know about the Ticket Collector Job Profile. If you have any doubt regarding the above topic feel free to comment below we will get back to you as soon as possible. All the best for your Journey.