In today's fast-paced world, everyone wants to pursue a profession with a high salary and a job that offers them satisfaction.
Apart from that, owing to recent covid crises, students are now seeking to pursue a career in that sector solely, which will have little or no impact if a pandemic like covid occurs again.
In search of this type of career opportunity, the first thing that stuck in every student's mind is the medical field. This is a very reasonable point, as the healthcare profession was one of the few that was unaffected by a covid pandemic. On the other hand, the need for doctors has risen dramatically.
Aside from that, the doctor's income is also pretty high. The job satisfaction that comes from putting a grin on the patient's and his or her family's faces is something that cannot be obtained by working in any other area.
For this reason, if you are someone who is also planning to have a career in the doctor field but doesn't know how to become a doctor or has very little idea regarding this, then you have landed on the right blog page.
On this blog page, you will get to know about how to become a doctor after 10th, various types of doctors, the perks of becoming a doctor, as well as a top college for these courses in India.
Before moving to this let's have some basic knowledge about
Who is a doctor?
A doctor is a person who cures the illness that patience possesses. As a result, give relief to the patient from the discomfort caused by the disease.
Why to become a doctor?
As earlier said, becoming a doctor is a profession that provides high pay, a fulfilling professional life, and job satisfaction.
Apart from that, this field also has high employment. In India, one doctor serves at least 1,511 individuals, which is much above the World Health Organization's standard of one doctor for every 1,000 people.
Also, the lack of qualified nurses is considerably worse, with a nurse-to-population ratio of 1:670 compared to the WHO standard of 1:300.
This number clearly shows that India will require more skilled doctors in the future. As a doctor, you can start your clinic if you are not getting jobs in any type of government or private hospital or if you want to earn extra money.
Steps to become a doctor after 10th:-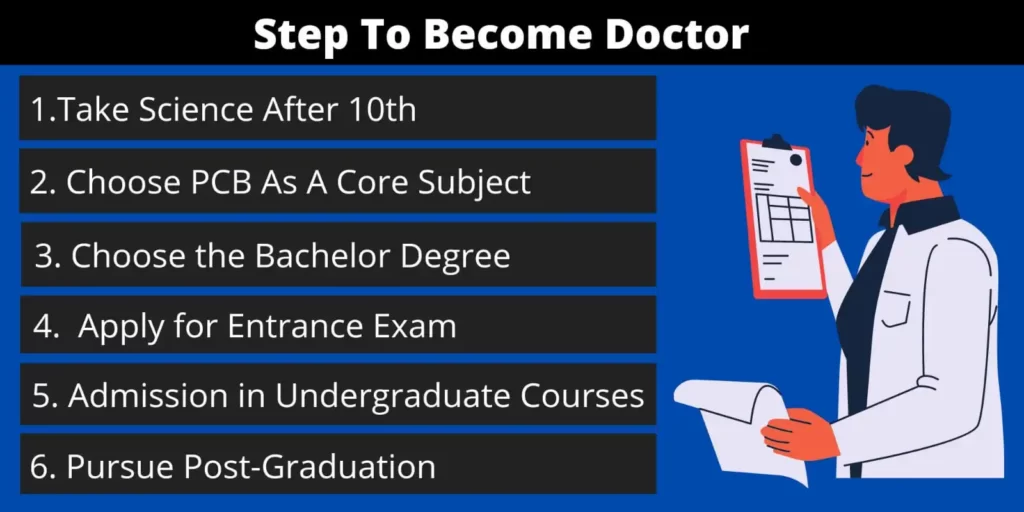 Let's see the steps to become a doctor after the 10th one by one
1) Take science:-
The very first step to becoming a doctor is to take science. This should be done to meet the eligibility criteria to become a doctor.
The eligibility criteria are 10+2 with a science stream.
2) Choose the core subject:-
Once you have taken science, the next step is to choose the core subject to become a doctor, i.e., Physics, Chemistry, and Biology (PCB).
These are the fundamental subjects that you must take to become a doctor, as they are also part of the qualifying requirements.

Aside from that, you can choose any three other subjects you want, though I strongly recommend that you take Math as well. As a consequence, if you change your mind, you'll have a higher chance of following alternative professional options in the future if you change your mind.
3) Choose the Bachelor's Degree:-
Once you have taken science and chosen PCB, your very next step is to choose which undergraduate degree you want to pursue to become a doctor.
MBBS is the most popular degree among students who want to become doctors, but apart from that, there are also various other bachelor's degrees that are available that you can pursue to become a doctor.
The degree is as follows:
MBBS–Bachelor of Medicine, Bachelor of Surgery
BDS-Bachelor of Dental Surgery
BUMS-Bachelor of Unani Medicine and Surgery
BHM-Bachelor of Homeopathy Medicine and Surgery
BYNS-Bachelor of Yoga and Naturopathy Sciences
BAMS-Bachelor of Ayurvedic Medicine and Surgery
B.V.Sc & AH-Bachelor of Veterinary Sciences and Animal Husbandry
A bachelor's degree in pharmacy is also one of the most popular medical degrees. This training, however, is designed for people who wish to become pharmacists rather than doctors.
At the end of this section, I will have explained each of these courses in detail. If you want more information regarding these courses, you can check them out.
4) Apply for the Entrance Exam:-
The third step to becoming a doctor is to start preparing for the entrance exam. To get admission to medical college, the student has to undergo the entrance exam.
NEET (National Eligibility Entrance Test) is a national-level entrance exam that can be taken by any student who has completed or is currently completing the 12th grade.
It's a multiple-choice test with a syllabus based on your 11th and 12th grades. There are questions about physics, chemistry, and biology.
Apart from this, there are various state-level CET (Common Entrance Test) exams that are conducted by the state government.
Students can also apply for this exam if they want to attend a medical school that falls under a state-level quote.
But if you are an MBBS aspirant, then the NEET Exam is the only option that is available to you.
5) Take the Admission to Medical College:-
After you have given your entrance exam you will get your result in which your rank is mentioned based on that, your counseling will happen through which you will get admission to the college.
If you are giving the NEET Exam, then you will get an AIR (All India Rank) and if you are giving a state-level CET, then you will receive a state-level rank. Apart from that, you can also get a reservation rank if you fall under any reservation criteria.
The counseling happens on the site named "Medical Counselling Committee (MCC)". Here you need to register yourself.
You have submitted all the required documents that are asked for on the website along with the course in which you want admission.
The site will check all of your documents. If all your documents are valid and right, then your document validation is done. You will receive a confirmation by revising the confirmation letter on your registered email and mobile.
After this, you can move farther into your counseling process by entering the list of colleges that you want. You can enter both government and private colleges if you want.
Then your CAP round happens in which, based on your rank and the college you have entered, you will be allotted the best college by MCC.
Each year there are 2-3 CAP rounds + 2 mop-up rounds that happen. In each round, you will be allotted one college. If you like it, you can take admitted to that college by paying the required fees, and if not, you can proceed to the next round.
5) Pursuing a Postgraduate degree:-
Once you have done your bachelor's degree you will become a qualified doctor and can start earning. But now if you are thinking about becoming a specialist in a certain topic or want to become a specialist surgeon of a specific part of the body.
Then you need to obtain a PG degree in MD(Doctor of Medicine) or MS(Master of Surgery).
The person who possesses an MD degree works as a specialist in that specific area only whereas an MS doctor is a specialist surgeon who can perform surgery on a specific part of the body in which he/she has done her PG degree.
For applying for both courses the eligibility criteria are a candidate needs to have a bachelor's degree in MBBS. If you are eligible then you have to give the entrance exam i.e NEET-PG.
Then after passing the exam you can get admission to the PG course that you want. The entire process of admission is the same as your previous UG entrance exam. That is why I will not explain it again.
The list of the specialization of MD and MS are mentioned below
MD Specialization:-
MD in Aerospace Medicine
MD in Anatomy
MD in Anesthesiology
MD in Biochemistry
MD in Biophysics
MD in Community medicine
MD in Dermatology, Venereology & Leprosy
MD in Emergency Medicine
MD in Family Medicine
MD in Forensic Medicine
MD in Geriatrics
MS Specialization:-
MS in ENT
MS in General Surgery
MS in Obstetrics & Gynaecology
MS in Ophthalmology
MS in Orthopedics
MS in Otorhinolaryngology
MS in Traumatology & Surgery
Doing specialization not only helps you gain extra knowledge and degrees but also helps you make more money.
Don't Miss:-
Undergraduate doctor degree:-
In this section, I will explain the different types of undergraduate courses available for students in detail.
1) MBBS:-
The MBBS degree is the most talkative undergraduate degree among all others. It is a 5.5-year-long course. Last year serves as an internship year where you have to work as an intern.
Generally, this internship is provided by the college only but sometimes some colleges ask candidates to find internships on their own.
2) BDS:-
The BDS degree can be done by those students who have an interest in the dental area.
This program is four years long, with 240 teaching days per academic year and one year of rotating internship at a dental institution. After passing the final BDS Examination, each student will be expected to do a one-year rotating internship in a dental institution.
3) BUMS:-
A candidate who has an interest in the Unani medicine and surgery system can pursue a BUMS degree.
This degree is a total of 5.5 years of which 4.5 years is the study part and lasts one year is the internship year which is mandatory and everyone has to undergo.
A student who has the Urdu language as a mode study Language in 12th gets more preference in the course.
4) BHM:-
BHM degree covers the medical knowledge of the homeopathic system. You can work as a doctor in the homeopathic medical profession after earning this degree.
BHM degree is granted following a 5.5-year academic program that includes a four-and-a-half-year academic session and a one-year internship program with real-world experience.
The homeopathic system's undergraduate curriculum can be completed through distance education also.
5) BYNS:-
Bachelor of Naturopathy & Yogic Sciences (BNYS) provides basic education in the integrated system of modern medicine and traditional Naturopathy & Yogic Sciences.
The Bachelor of Naturopathy and Yogic Sciences (BNYS) is a medical degree in India in the field of integrated naturopathy and yoga therapy. The degree lasts 5.5 years, including a one-year internship after passing 12th Science. A person with a BNYS degree can practice anywhere in India.
6) BAMS:-
The Bachelor of Ayurvedic Medicine and Surgery (BAMS) is an Indian medical degree that combines Ayurvedic medicine and surgery. Students who have studied both modern medicine and traditional Ayurveda are awarded this degree.
This degree is granted after completing a 5-year, 6-month degree program that includes a four-and-a-half-year academic session and a one-year internship with live practical experience.
7) B.V.Sc & AH:-
This degree is the 3rd most popular doctor degree course in India. So I will try to explain this course in more detail.
How to become a Veterinary doctor?
If you are a person who is interested in animal caring also want to become a doctor. Then B.V.sc & AH is the perfect degree course for you.
Veterinary science is a subfield of the science that deals with the treatment of various diseases in animals also including birds.
So in simple words, we can say that a Veterinary doctor is a professional who treats animals and birds.
Just like other degrees the B.V.Sc & AH is also 5.5 years long which 4.5 years is classroom teaching and the last 1-year internship happens where you work as an intern in a veterinary hospital.
Salary of Veterinary doctor:-
The average salary of a veterinary doctor can be anything between 65 thousand and 70 thousand, whereas an experienced doctor who is working in a government hospital can expect a salary of 1 lakh & above every month.
Salary of a Doctor in India:-
The average salary of a doctor in India is 9 LPA. A fresher doctor with a bachelor's degree can expect salary pay of between 3-3.5 lakh per annum.
Your salary will rise to 15 lakh per annum and beyond if you get your PG degree and have enough experience.
Let's see the salary of each bachelor's course one by one
| | | | |
| --- | --- | --- | --- |
| Courses | Minimum Pay | Average Pay | Maximum Pay |
| MBBS | 3-4 LPA | 5-6 LPA | 9-10 LPA |
| BDS | 2-2.5 LPA | 3-3.5 LPA | 6-7 LPA |
| BHM | 2-2.5 LPA | 3-3.4 LPA | 5.5-6.5 LPA |
| BUMS | 1.5-2 LPA | 2.5-3 LPA | 5-6 LPA |
| BAMS | 2-3 LPA | 4-5 LPA | 7-8 LPA |
| B.V.Sc & AH | 3-5 LPA | 7.5 -8.5 LPA | 9- 12 LPA |
Salary of a Doctor after Post-graduation:-
| | | | |
| --- | --- | --- | --- |
| Courses | Minimum Pay | Average Pay | Maximum Pay |
| MD | 7-8 LPA | 12-13 LPA | 15 LPA & Above |
| MS | 7-8 LPA | 12-13 LPA | 15 LPA & Above |
Top Medical Colleges in India:-
AIIMS Delhi – All India Institute of Medical Sciences New
PGIMER Chandigarh – Postgraduate Institute of Medical Education and Research
CMC Vellore – Christian Medical College
NIMHANS Bangalore – National Institute of Mental Health and Neuro Sciences
SGPGIMS Lucknow – Sanjay Gandhi Postgraduate Institute of Medical Science
Amrita Vishwa Vidyapeetham, Coimbatore
BHU Varanasi – Banaras Hindu University
JIPMER Puducherry – Jawaharlal Institute of Postgraduate Medical Education and Research
KGMU Lucknow – King George's Medical University
KMC Manipal – Kasturba Medical College
Top recruiters of Doctors in India:-
AIIMS
Apollo
Fortis
Max
BLK Super Speciality hospital
Columbia Asia Referral Hospital
Manipal Hospital
Lilavati Hospital
Conclusion:-
I've attempted to describe all that has to be done to become a doctor in this blog. However, before pursuing a career as a doctor, make certain that you are purely interested in the medical field.
I'm saying this to you because you learn about doctor perks at a very young age and decide to pursue a career as a doctor after finishing 10th grade.
When students make decisions, they often do so without recognizing what their true interests are. This occurs because they are unaware of other job options.
You may prevent this blunder by taking a career assessment test, which will reveal your true passions and allow you to pick a career path based on them.
If a career evaluation reveals that your primary interest is in medicine, you can pursue a medical (Doctor) degree.
Remember that the doctor's course is quite difficult to complete. You need to put your whole time into studying, but if you put your today into studying, then a bright future is waiting for you.