Confused about what to do after 12th science, then no need to worry. In this article, we are going to see some high salary courses after 12th science.
After passing the 10th grade, a lot of students enrolled in the science stream. Every student's initial desire after studying science is to work in the medical or engineering fields.
In that also MBBS and software engineering is the most popular among students. In India, the popularity of this course is understandable. Students and their parents are very enthusiastic about the MBBS doctor and software engineering degrees.
This is due to the fact that in Indian society, these courses are held to the highest of standards. People believe that if you want to make a lot of money, these are the only courses you need to do. And there's a grain of truth in it as well.
However, as we all know, when there is a lot of buzz about anything, there is a lot of competition. These two courses are not a cakewalk. Every year, lakhs of students take entrance exams for these courses, but only a few handful are qualified.
Does who doesn't get selected for these courses have a dilemma about what to do now? Is there are any high-salary courses in science other than engineering?
The answer to all these questions is that the science stream is not limited to just these two courses. There are tonnes of courses other than this that provide a high salary after the 12th. The only hindrance is that not many people know about it.
So to bring this course into the student limelight I had brought this blog where I had mentioned the best salary courses after 12th Sciences.
In this blog, we have mentioned in detail this high-salary course after 12th science PCM/PCB. Apart from that, we also mentioned some courses with high salaries for the bio maths group.
So, without further ado, let's dive into the topic.
First, I'll discuss various high-paying courses for PCB students and then for PCM students. Finally, at last, I'll cover bio math courses.
High salary courses after 12th science PCB:-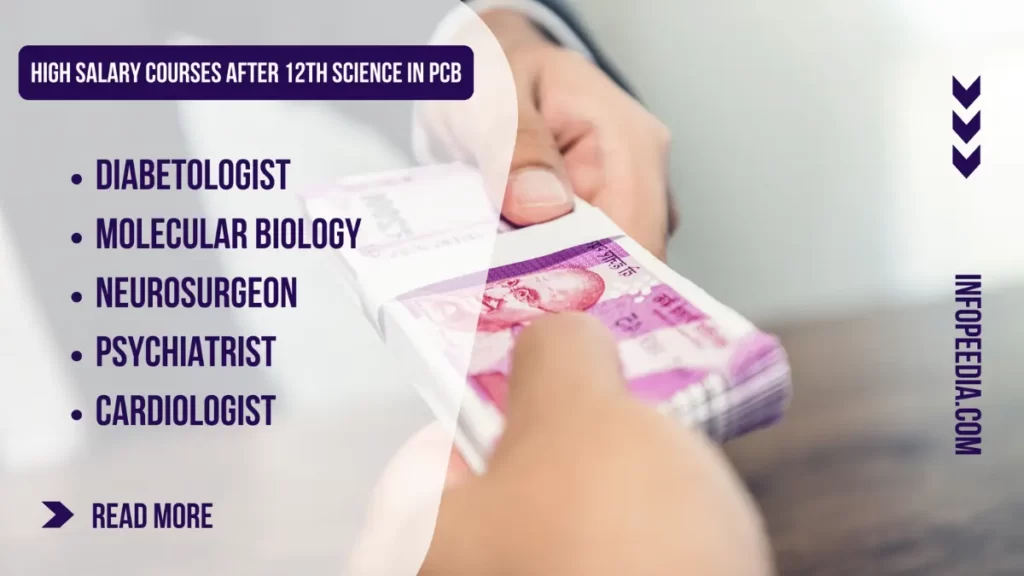 1) Diabetologist:-
A Diabetologist is a course that deals with diabetes, also known as diabetes mellitus, which is a common metabolic disease that is caused by excessive-high sugar levels in the human body. It is regarded as a subspecialty of endocrinology.
In India, it is the most common disease, which is found in 77 million of the country's population. Every year, almost 6.2 million people die of diabetes in India. If we talk about the whole world, then the number could reach up to 30 million.
It is also predicted that this number will cross 100 million in the coming 10 years. Despite the show's death, there are very few students who opt for these courses.
By taking this course, you will not only be able to save the lives of a million people, but you will also be able to pursue a career in a unique profession. Aside from that, it is one of the highest-paying professions in the medical field.
How to become a diabetologist?
Diabetologists are Post graduation level courses. As a result, after completing science in 12th grade, students must take the NEET entrance test in order to be admitted to an MBBS program.
After passing the MBBS course, which is five and a half years long, one can be eligible to apply to be a diabetologist. This diabetologist training program lasts between one and three years.
Salary of Diabetologist:-
As I earlier said that a Daibelogist is one most high-paying courses. On average, a diabetologist earns around Rs 18–20 lakh per annum. The starting salary of a diabetologist is Rs. 10 lakh per annum. One may make more than 30 lakh per year after acquiring a lot of expertise in this industry.
2) Molecular biology
Molecular biology is a specialized field within biology that deals with the content, structure, and interactions of cellular components such as nucleic acids and proteins, which carry out biological activities critical to the cell's operation and maintenance.
A profession that carries out all these activists is known as Molecular Biologist. Basically, they are scientists that perform studies and experiments at the molecular and cellular levels to better understand cell function.
How to become a molecular Biologist?
To become a molecular biologist, one needs to pursue a bachelor's degree in life science after the 12th. Apart from that, one can also pursue a B.Sc in chemistry, a B.Sc in biology, or a B.Sc in biochemistry.
These bachelor of science courses are three years long and must be completed by students who want to become molecular biologists. Admission to these courses is based on your 12th grade or marks. However, some private colleges may hold entrance tests for these courses.
Following a bachelor's degree, one can pursue a master's degree to get more experience and a higher salary. You can pursue your master's degree in the same discipline in which you completed your bachelor's degree.
Salary of a molecular biologist:-
A molecular biologist makes about ten lakh rupees per year on average. The income is a little lower at first, so anticipate earning approximately 3–6 lakh per year. You may make over 20 lakh per year after acquiring appropriate expertise.
3) Neurosurgeon
A neurosurgeon is a highest-paid job in the healthcare field. A neurosurgeon is a doctor who specializes in neurosurgery.
Patients with chronic conditions that impact the normal functioning of the patient's neural systems, such as Parkinson's disease, aneurysms, and congenital defects, are surgically treated by a neurosurgeon.
How to Become a Neurosurgeon?
Since neurosurgeons deal with nervous and brain problems, their education and training are much harder than other doctors. A minor blunder on their part might render a person entirely paralyzed or even cause the patient to die.
So, let's take a closer look at a neurosurgeon's schooling and training.
To begin, you must be a 12th pass on your boards. Then after that, you must qualify for the NEET exam with a good ranking.
After that, complete your MBBS degree with good marks. Then they need to compete for the MD in neurosurgery or something else. An MD student can also do an M.Ch in neurosurgery if he/she is willing to have super specialization in it.
After that, the student must complete a one-year internship in general surgery before receiving a degree in neurosurgery.
Salary of Neurosurgeon
A neurosurgeon's average annual pay in India is 33 lakh rupees. A newcomer to this sector may expect to earn between 18 and 22 lakh per year.
Once you have a thorough understanding of the field and sufficient expertise, your yearly compensation might skyrocket to 80-90 lakhs per year. "It may potentially go above one crore also."
4) Psychiatrist
A psychiatrist is a medical professional that specializes in the diagnosis, prevention, research, and treatment of mental, emotional, and behavioral illnesses.
During these times there are various news comes where do the suicide because of some mental or emotional pressure. By becoming a psychiatrist you can help this type of person and save their lives.
How to Become a Psychiatrist?
There are two ways to become a psychiatrist let's see them one by one
The first way is to do a diploma after your 12th in the below-mentioned courses
Diploma in Psychiatric Medicine (DPM)
Diploma in Clinical & Community Psychology
Diploma in Psychiatric Nursing
Diploma in Counselling Psychology
These programs are three years long. Students receive a diploma certificate after completing these courses, allowing them to begin working and earning money.
Another way to become a psychiatrist is to do MBBS after the 12th and after completing it do your MD in the below-mentioned courses.
Doctor of Philosophy (Ph.D.) in Clinical Psychology
Doctor of Philosophy (Ph.D.) in Psychiatric Social Work
Doctor of Philosophy (Ph.D.) in Psychiatric Nursing
Master of Philosophy (M.Phill) in Psychiatric Social Work
Master of Philosophy (M.Phill) in Media and Social Psychology
Both ways have their own advantage. By doing 3 years diploma you can start earning and in other methods i.e is by doing MBBS and MD you can earn more than a diploma holders
Salary of Psychiatrist:-
On average psychiatrists in India earn around 14 lakhs per annum. Here fresher can earn around 7-8 lakhs per annum while an experienced psychiatrist doctor earns around 24-26 lakhs per annum.
5) Cardiologist
A cardiologist is a medical professional who deals with the prevention of diseases related to heart and cardiovascular ailments. Congenital heart defects, coronary artery disease, heart failure, valvular heart disease, and electrophysiology are among the disorders that cardiologists treat.
In India, cardiovascular disease is becoming more common almost every year 50 lakhs of people in Indian and it is predicted in the future this number will rise more. So as the number will rise the demand for cardiologists will also increase drastically.
How to Become a Cardiologist?
A cardiologist takes MD specialized courses, so the student who wants to become a cardiologist needs to first pursue a bachelor's (MBBS) degree and then apply for these MD specialized courses.
After doing an MD in cardiology, one needs to do a 3-year DM in cardiology. So we can conclude that it will take almost 12 years of study after high school to become a cardiologist. Since this course is long, it also rewards one in terms of salary.
Salary of cardiologist:-
In this profession, a beginner may expect to make between 9 and 10 lakhs per year. In India, the average pay of a cardiologist is Rs. 25 lakhs per annum. However, if you have more than 10-12 years of experience in this field, your annual salary will be more than 90 lakhs per year.
Don't miss:-
High salary courses after 12th science PCM:-
1) Aeronautics Engineer
Aeronautics engineering comes into the aviation industry. In India aviation sector is predicted to flourish in the next ten years. Aside from that, there is less competition for this engineering program than for any other engineering course.
Now let's talk about what aeronautics engineers do. Basically, aeronautics engineers are specialists who study, design, develop, maintain, and test the performance of civil and military aircraft, including weapons, satellites, and even space vehicles, using scientific, technical, and mathematical concepts.
So, if you want to be a space scientist and work for ISRO or NASA, this is the course for you. This course will also help you gain a career in space or the astronautical sector.
How to become an aeronautical engineer?
Just like any other engineering course you first need to give JEE Mains or State CET after your 12th to get admission to aviation engineering colleges. The various private college also held their entrance exam so you can give this exam also if you want to get admission to that colleges.
After getting admission you will pursue a bachelor's degree in aeronautical engineering which is 4 year-long course. After that, you can apply for aeronautical jobs. Apart from private jobs, you can also get a government job In DRDO( Defence Research and Development Organisation).
You can also do your post-graduation in aeronautical engineering to get more knowledge and experience which will automatically help you to raise your salary
Salary of Aeronautical Engineers:-
The Salary of aeronautical engineering in India on average is 10 lakhs per annum and a fresher may expect a salary of 6 lakhs per annum. But when it comes to experienced professionals then their average salary can be more than 50 lakhs per annum.
2) Future engineering courses:-
A lot of you would be surprised to see engineering courses on this list but let me tell you why I added this course to this list. When I say future engineering courses I want to mention courses like artificial intelligence, machine learning, data science, internet of things, cybersecurity, etc types of the course.
Every one of us knows incoming years technology will rise drastically and the above-mentioned field have a huge contribution to it. It also predicted these courses will become more popular within 3-4 years. Still, these courses are very less known because of which competition in this course is low.
So if you are someone who is in 11th or 12th and was planning to do engineering but huge competition in engineering diverted your minds. So why not make a career in these courses. This course has a very good future scope as well as a good salary.
Apart from that this course has also had coding stuff due to which you also become eligible to get IT or computer science students jobs also.
Also read,
How to get admission in this course
To get admitted to these courses, the same procedure as for other engineering courses must be followed. Students must first take the entrance test, and then, if he passes, they can apply for the corresponding courses.
Until recently, relatively few Indian colleges provided these degree programs in full. These courses are available as specializations alongside the regular courses at various institutions across India.
To understand it clearly, let's take an example. If you are pursuing a B.tech in information technology with a major in the Internet of things, Then this type, of course, is considered a specialized course.
However, colleges affiliated with Mumbai University provide these programs as their whole. If you are just interested in these degrees, you might check into Mumbai University's engineering institutions.
Salary of these Courses:-
In India, the pay for these courses is inadequate. The average salary for these courses in India is Rs. 12 lakhs per year. A fresher can expect to earn between 5–6 lakhs per year. This salary will skyrocket over the next few years, making it the highest-paying job in any field.
3) Architecture:-
Architecture is a well-known course among students, yet only a small number of students study it. For the past 4-5 years, India's architectural business has seen significant expansion, and this trend is expected to continue in the next few years.
The jobs in architecture include the design of homes, apartments, and office buildings. The bigger projects include graphic design, designing sites for exhibitions, sports events, etc.
How to become an Architecture?
After completing the 12th grade, one must pass an entrance exam to become eligible to take admissions in architecture colleges JEE and NTA are the national levels architectural entrance exams. There are also several state-level CETs that are held by respective governments.
Various private institutes, on the other hand, hold their own entrance tests. So you may choose which entrance you need to take dependent on the sort of college you wish to attend.
Salary of Architecture:-
The average annual salary for architects is 8–10 lakhs. An experienced architect can earn 13-17 lakhs per annum, whereas a fresher in this field can start with a salary of 4-5 lakhs per annum.
4) Airline Pilot
An Airline Pilot is one of the high salary courses in science other than engineering courses. In India, it is predicted that the aviation sector will increase by roughly 10% over the next decade. From 2015 to 2020, it has expanded by 20.3%.
The Directorate General of Civil Aviation (DGCA) predicts that growth will double every five years for the next 15 years.
The job of airlines is to fly the planes to their respective destinations. The pilot course has both private and government scope. You can become a commercial pilot in any airline or you can become an airforce pilot for your country.
How to become a Pilot?
To become a commercial airline pilot one needs to undergo a DGCA examination after the 12th and after passing that one is eligible to take admission to aviation colleges.
To become an airforce pilot in India one needs to give an NDA exam after the 12th and after passing that candidate needs to undergo physical, medical exam, and interview rounds.
Salary of the pilot:-
In India, a fresher may expect to earn between 15-18 lakhs per anum as a beginning income. After a few years of expertise, the income might reach Rs. 50-70 lakh per year. Your income climbs to 1-1.5 cores per year if you have more than 10 years of expertise
5) Air Hostess:-
Another aviation course that is on our list is an air hostess. This career opportunity is very rewarding for girls who are searching for high-paying courses after 12th science for girls.
As I have stated, the aviation sector is seeing unprecedented expansion Hence, career opportunities that are falling in the aviation field are seeing good growth.
Air hostesses' jobs are to conduct pre and post-flight checks, look at the passenger's comfort and safety, etc.
How to become an Air hostess?
To become an air hostess, you must have a minimum of 50% in your 12th-grade examinations. The candidate must be at least 17 years old and no more than 26 years old.
Then, the candidate needs to apply for the air hostess program, which is offered by various airlines. Some airlines may also administer their own entrance examinations.
Salary of Air Hostess:-
An air hostess' beginning pay is roughly Rs. 6-7 lakhs per year. The typical annual income is roughly 10–11 lakhs, with senior experience level salaries around 15–16 lakhs.
High salary courses after12th science PCMB:-
1) Forensic science
Forensic science is a subject for students who are interested in solving mysteries. Forensic science is a sort of education that focuses on investigating and solving past crimes.
Essentially, they gather information from crime scenes and use it to solve crimes. This information might be anything found at the crime scene. From checking DNA to retrieving data concealed in some electrical gadgets, these are all things that this professional needs to check during an investigation. Thus, biology and math play equal roles in this discipline.
How to Become a Forensic Expert?
To have a career in forensic science, a student needs to pursue science after 10th with physics, chemistry, biology, and maths as compulsory subjects. After that, students need to pass the 12th with an aggregate of more than 50% in PCMB subjects.
The first one is merit-based, where students get admission through their 12th result, and the other is through the entrance exam, where the marks that you obtain in the entrance exam act as an admission gateway to get into a college in forensic science.
Salary in forensic science:-
The average yearly salary in forensic science is ten lakhs. A neophyte might assume a pay of roughly 5-6 lakhs per annum, whereas someone with expertise in a higher position can expect a salary of 12-15 lakhs per annum.
2) Biotechnology
Biotechnology is a subject that combines biology and technology. Biotechnology is a branch of applied biology that employs sentient organisms or biological systems to create technological advancements that may be used in a range of fields.
Biology, math, and computer applications are all vital in this profession. Following the COVID crisis, the area of biotechnology tends to expand considerably quicker, and this profession will be in great demand, particularly in India, as the country attempts to become self-sufficient in this sector.
How to make a career in Biotechnology?
You can pursue a BSc in biotechnology or a BTech in biotechnology to become a biotechnologist. Passing the 12th grade in science with biology is the initial stage in both courses. Mathematics and physics are also required subjects.
If you want to pursue a BSc in biotechnology, your 12th grade will be taken into account for admission; if you want to pursue a B.tech in biotechnology, you will need to take engineering entrance examinations such as Jee Main, CET, and others.
Salary in Biotechnology:-
In the field of biotechnology, salaries are fairly substantial. An experienced expert may make approximately 20–22 lakhs per year, whereas the typical income in this industry is between 8–9 lakhs per year and 5–6 lakhs per year for freshers.
3) Agriculture courses
A bachelor's degree in agriculture is one of the most distinctive fields in the PCMB category. The BSc Agriculture is a four-year degree program that teaches you all you need to know about agriculture.
Plant Genetics, Agricultural Meteorology, Food Technology, Horticulture, Agronomy, Animal Husbandry, Entomology, Extension of Agriculture, Genetics, Soil Science, Agricultural Economics, and other subjects are covered by students enrolled in this program.
This course is also a specialization course where you earn a degree in a special area of agriculture. For example, BSc agriculture specialization in plant protection, BSc agriculture specialization in soil science, BSc agriculture specialization in agricultural engineering, etc.
How to get in BSc in agriculture?
Similar to BSc forensic science, admission to this program is dependent on merit or entrance exams. However, the entrance exam is the most common route to gain entry to a BSc in agriculture.
The ICAR AIEEA is a national-level entrance test that may be taken by students from all across India. Aside from that, various state-level CETs are held for this course.
Salary In Bsc agriculture:-
The average yearly pay for a BSc agricultural graduate is approximately 8 lakh per year, with freshers earning around 4.5–5.5 lakhs per year and experienced professionals earning up to 18 lakhs per year.
Conclusion:-
In this blog, I have mentioned a total of 13 types of high-salary jobs after 12th science. Five jobs for PCB students and five jobs for PCM students were mentioned.
Apart from that, three unique types of jobs for students who love both biology and maths are also mentioned.
This job can also be targeted by both PCM and PCB students.
But there's one thing I want to be clear about: don't run for a high-paying job. Do only what you're passionate about or what you've always dreamed to do. Don't give up on your passion or dream. This is because if you undertake any other profession in which your passion does not lie or in which you are not engaged, it will become tedious for you, despite the great income
Then also after that, if you do this job every 9–10 hours of your day, you will only make your life meaningless and pointless. That's why every successful person says, "Chase your dream, not money."
Aside from that, if you have any difficulties following any of the job paths mentioned in this blog, please leave a comment below. We will do our best to respond to all of your questions. Best wishes for the future until then.
FAQs
Which course is best after 12th science with high salary?
Below are some of the courses after 12th science with a high salary:-
1) Diabetologist
2) Molecular Biology
3) Neurosurgeon
4) Psychiatrist
5) Cardiologist
6) Aeronautics Engineering
7) Future Engineering Courses
8) Architecture
9) Airline Pilot
10) Air Hostess
11) Forensics Science
12) Biotechnology
13) Agriculture courses
Which job has highest salary after 12th?
Some of the Highest Salary jobs after the 12th are listed below:-
1) Medical Professionals
2) Merchant Navy
3) Engineer
4) Lecturer
5) Chartered Accountant
6) Management Professionals
7) Architects
8) Scientist
9) some Government jobs
10) Aviation Professionals
Which science course has high salary?
The best Science Course which will help you to get a high Salary is MBBS. You can also consider some other course which also helps to get a high salary like Engineering Courses, Architecture, Data Science, etc.
What are high-salary courses after 12th non-medical?
The high-salary course having a non-medical field is an option that every student bio student wants to know about. The top two best courses in this category are Art and Engineering. Other than this, this aviation course is also present in this criteria, and this course provides a much higher salary than the above-mentioned course.
What are unique courses after 12th science?
The list of unique course after the 12th are as mentioned below 
1) Pilot course
2) Air hostess courses
3) AI engineer
4) Machine learning Engineer
5) IoT Engineer
6) Agriculture courses
7) Forensic science courses
8) Biotechnology courses