In today's fast-moving world, there is huge technological advancement going around. Modern businesses now heavily rely on computers. Therefore, knowing computer skills is becoming very important.
So, having some knowledge of computers has become a need for working-class people. Having computer knowledge gives a person an upper hand over their competitors.
Maybe some of you are out of college or university or have been blue-collar workers for most of your life. You now desire transformation.
You now desire a job as a white-collar employee working in an office setting. As a result, it is imperative that you understand the basics of computers.
Hence, in this blog, we will talk about the basic computer skills a person must have in detail. So without wasting your time, let's dive into the topic.
Computer skills that are required for jobs
If you're a young person looking to work in the corporate sector in today's times of global advancement, the first thing you could notice in the employment criteria is having some basic computer skills.
Another possibility is that if you work for a firm for a long time and lack computer abilities, you may be fired.
Thus, the topic of what are the fundamental computer skills that a person needs to know may now arise in your mind.
Basic computer skills are nothing but things like creating word files, creating PowerPoint presentations, and creating excel sheets or spreadsheets. Other than this, typing skills also come with basic computer skills.
There are specialised tools for making all of these different kinds of files and sheets, so in a later post on this blog, we'll go into great depth about these tools.
The best tools to start your career.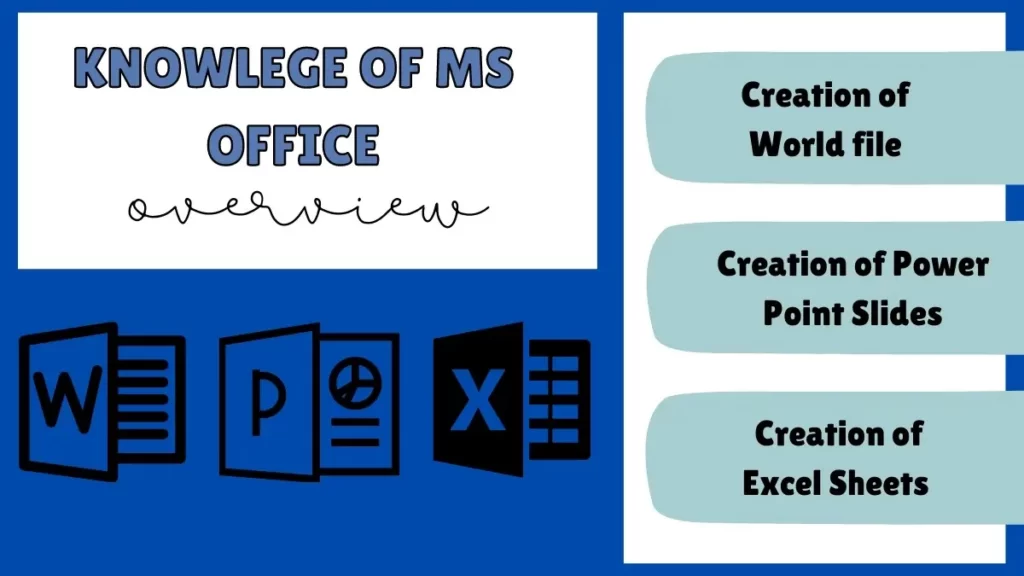 I'll break it down for you, and I think the things I'm discussing right now are really helpful, so be aware of these resources and read the blog carefully.
It will help you not only to start your career but also at all stages of your career. It will make it easier for you to organise your day.
Microsoft Excel-Computer Skills
Microsoft Excel is a tool to help you create different spreadsheets, but the software has evolved throughout its existence and intensively.
Nowadays, you can do a lot of work in Excel, and it is not just about creating spreadsheets and keeping lists or doing basic calculations.
You can use Excel for analysis. You can use Excel for accounting. You can use sophisticated financial reporting and analysis from basic accounting.
And even if you don't work with counting, you can use it to track and report your data.
You can easily navigate through the filter and search for items and create the best relevant lists that Excel can use very widely in business so any business from small to large.
You will find that Excel is being used at all levels, from small business work to the large corporate world. Excel can be used to produce incredibly nice visuals for any form of data, such as bar graphs, pie charts, or line graphs.
There are numerous alternatives to MS Excel, such as Google Sheets, each with its own set of advantages and disadvantages. So, based on your comprehension, you can use any of them.
Getting a better understanding of Excel will help you at all stages of your career.
Powerpoint-Computer Skills
The second is PowerPoint, which you have most likely heard of. PowerPoint can assist you in creating a Slack box.
Now, PowerPoint is a really powerful tool for any kind of presentation, whether you want to pitch an idea, if you're facilitating a meeting and running a decision-making process,
Personally, I've created graphical pictures of various graphical contents using PowerPoint.
I believe PowerPoint allows you to accomplish this, particularly because certain add-ons can record your screen and generate pretty effective instructional.
I can assure you that it will improve your capacity to create visually appealing presentations once again.
If you work for a company or organization that assists you in presenting your content, then PowerPoint presentation becomes an important tool.
A PowerPoint presentation is required if you want to deliver anything to your employer. This will emerge as a crucial tool that will enable businesses to understand the whole picture of what you are attempting to communicate.
You can use your Excel graphs and charts and bring that data into PowerPoint. You can also bring tables to the PowerPoint. Use transitions and animations to make it visually appealing and user-friendly.
And I hope that to whom you are presenting it will create a better picture of your material thinking and help your reputation.
You may also like:-
Microsoft Word – Computer Skills
Microsoft is a great tool for word processing, so when we talk about Microsoft Word, it is called rich text format. Adding a lot of fonts with added images lets you format your text again.
You may experiment with sizes, phones, and colours as well as add graphs. There are several options available to you, in addition to having a paragraph and using various page sizes.
If you are a document controller or anticipate generating many documents, the commit procedures can be translated using either a translation key or a Microsoft Word document.
You can include an appealing and clean CV, and it's wonderful to print and produce PDFs because a PDF is essentially a printed picture of any form of document, such as Microsoft Word or Excel.
When you use rich text format in your emails or whatever else is better – Computer Skills
You will find that the same functionality you have in the markets is inherited from several other systems, including an email link.
Microsoft Outlook-Computer Knowledge
You may be familiar with Outlook as a method of email, but Microsoft Outlook-Computer Knowledge manages your emails.
Emails are a crucial component of communication and task management in the majority of businesses and organisations.
Emailing is the most crucial form of communication that may be primary and occasionally critical.
To begin with, it helps you plan your day using your best calendar, as well as your responsibilities.
This will assist you in prioritising chores. Using the calendar, use the features in Outlook to prioritise your tasks.
Additionally, there are several Microsoft Outlook add-ins available today that are frequently coupled with integrated communication tools. You may prioritise your emails, do everything you can to produce follow-ups, and more.
It can be combined with other items that can be connected with your Google Calendar for companies like Cisco Jabber and like Skype.
If you have one or any calendar, Microsoft Outlook is a wonderful organizer if used correctly.
You will find a lot of stuff in Microsoft Outlook, I can assure you of that. You'll be astounded. You'll be surprised by how many things this tool can perform with email links.
Typing skills
This is most likely one of the most challenging old administrative or old office abilities you'll come across while learning a computer skills
Typing machines have existed since the invention of typewriters. Nowadays, typing speed and typing accuracy are the best forms of written expression.
Typing is not any other skill on a computer, but it is the most important necessity. A keyboard is required for any form of input on a computer, and typing is the term used to describe input.
For any task like writing in the word file or making PowerPoint slides or creating excel sheets everywhere, we need good typing skills.
Having good typing skills implies that you can quickly and precisely enter any important data on a computer.
To become an expert typer, you must practise typing every day. You can significantly improve your typing by practising every day.
The main considerations you should have when practising are your typing speed and accuracy.
You may practise typing using a variety of online tools that are readily available on the Internet. Some examples of such tools are typing master, klavaro, rapid typing, etc.
Conclusion
You may launch these basic computer skills tools from anywhere online if you use the search function of your browser to look for further information.
Computer knowledge becomes the need of all time in the 21st century. Knowledge of the computer is an important requirement for all shapes of jobs.
In this blog, we have covered basic things that newbies should know about computers in much detail.
Once you master the basic knowledge of computers that is mentioned in this blog you should not stop there else you should keep learning the higher skills.
The more computer skills you know the more there is a chance of your getting employment or getting a salary hike. So learn as much as you can.
Till then if you have any queries regarding the point mentioned in this blog then you can comment on that. We will try to answer your query as soon as possible,
If you are interested in business and want to know different ways to market your business then you can visit theguidances.com for some valuable content.