Want to have a credit card but can't get it since you don't have a Credit Score. Every student faces this problem and Slice card is here to solve this. You don't need a credit score to get a Slice card. Slice Card is one of the numerous Buy Now Pay Later (BNPL) products available in the market. Slice Card has been for a while in market but now it is getting more attention due to the features or facilities it provides.
What is Slice Card?
The slice card is a "VISA" card powered by SBM bank. It is different from traditional credit cards. Slice Card is a BNPL product that works on the credit line. In Credit Line cards the cardholder gets an unsecured loan from NBFC and uses it as a credit card.
To understand this easily let's take an example, let's say you applied for a slice card and you got approval with a credit limit of Rs. 10,000 then you are getting a loan of Rs. 10,000 from an NBFC Slice provides you with a card and a platform to use this loan amount. Due to this, you will see a Consumer Loan entry instead of a credit card entry in your credit report.
Financing Partners Associated with Slice:-
Slice had partnered with Four NBFCs to get an unsecured loan for its users. The Four NBFCs are mentioned below:-
Quadrillion Finance Private Limited
DMI Finance Private Limited
Northern Arc Capital Limited
Vivriti Capital Private Limited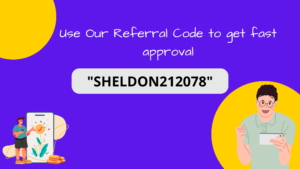 Rewards offered by Slice card:-
Slice gives the rewards to their user in the form of "monies". You will get one "Monies" for every rupee you spend using a slice card. You can convert these monies into cash back through the slice mobile app. The rate of conversion from Monies to cashback depends on your spending. The conversion rates are as follows.
| | |
| --- | --- |
| Number Monies | Conversion rates |
| 0 to 3 lakhs | 1% |
| 3 lakhs to 5 lakhs | 1.5% |
| More than 5 lakhs | 2% |
Slice Sparks and Offers:-
Instead of monies slice also offers discounts and cashback offers through Slice Sparks. You can use Slice Sparks to get a discount while making transactions with popular brands. These Sparks get revised every seven days. To avail of this offer, you have to activate specific Sparks through the slice mobile app. Below are some of the current Sparks.
25% cashback on Starbucks
20% cashback on Burger King
Flat ₹50 cashback on BookMyShow
10% cashback on Bewakoof
Flat ₹30 cashback on Zepto
10% cashback on AbhiBus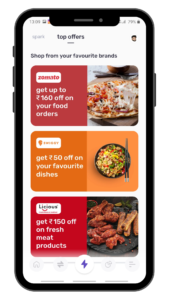 The list is not complete yet Slice also provides us with tons of offers other than Sparks. You can find these offers in the "top offers" section on the slice mobile app.
Fees and Late charges:-
Slice card is a lifetime free credit card. You don't have to pay any joining fees or annual fees for using the Slice card. Slice Charge you daily or 30% of the outstanding amount whichever is lower if you don't pay your bills on time. The daily charges on the outstanding amount are as follows:-
| | |
| --- | --- |
| Principle Outstanding | Per-day charges |
| ₹0 to ₹500 | ₹0 |
| ₹501 to ₹2,000 | ₹15 |
| ₹2,001 to ₹10,000 | ₹40 |
| ₹10,001 to ₹25,000 | ₹100 |
| More than ₹25,000 | ₹150 |
Emergency cash:-
You can also withdraw some amount of your credit limit in case of emergency. Slice Charge a transfer fee depending on the amount you want to withdraw. The transfer fees are as follows:-
| | |
| --- | --- |
| Transfer Amount | Transfer fee |
| Rs. 0 – Rs. 200 | Rs. 10 |
| Rs. 201 – Rs. 500 | Rs. 20 |
| Rs. 501 – Rs. 1,000 | Rs. 60 |
| Rs. 1,001 – Rs. 29,500 | Rs. 30 for every Rs. 500 increment |
| More than 29,500 | Rs. 1800 |
Other than the transfer fee slice also charges interest on the total amount i.e. Transfer amount plus transfer fee. The rates are calculated dynamically
Split your bills into Monthly Installment:-
Slice allows us to pay our bills in Easy Monthly Installments(EMI). Initially when the Slice card was launched Slice was not used to charge if you split your bill into three installments. But now slice charge interest of around 24% if you do that.
No-cost EMI:-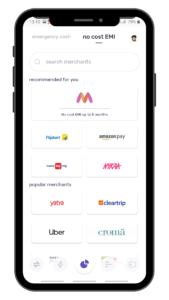 You can use your Slice card to avail no-cost EMI while shopping online but not in a traditional way. You have to generate a gift card through the slice mobile app. You have to select the merchant and the amount of the purchase while generating a gift card. And then you can use that gift card to make a purchase. Currently, slice offers a No-cost EMI option for selected merchants some of them are listed below.
Myntra
Flipkart
Amazon pay
MakeMyTrip
Nykaa
Yatra
Cleartrip
Uber
Croma
Tata Cliq
Big Basket
Domino's
Lifestyle
Shoppers Stop
Pepperfry
Slice Card Benefits:-
Easy approval.
No need for a credit score or income proof.
Slice mobile app UI is very easy to use you can track all your transactions, and reward on a go.
You can save some extra money through Slice Sparks and offers.
Provides you the facilities like Emergency cash, and No-cost EMI.
Drawbacks of Slice card:-
Slice charges interest when you split your bill in 3 installments but it competitors like Uni card provide this facility for free.
The Customer Support of Slice is not that good.
Final Thoughts,
Slice designed this product for those who don't have a credit score, like a student, someone who is starting his/her career, or someone who doesn't have any income proof. If you fall under this category then I strongly suggest you to get this card. It will not only help you to improve your credit but also to save extra 1%-2% money through Slice Sparks and other offers. Slice card do have some drawbacks as mentioned above but its benefits are much higher.
The application process is very easy, don't forget to use our referral code it will help you to get approval faster. Start your application process by clicking here.
Also Read,